How Many Climber Sections Should I Order?
Customers can purchase as many 18" sections as needed for a floor to ceiling climber, or 1-2 sections for an unbeatable, tidy cat scratching post near the floor.
Each 18 inch section can be mounted on the end-cap of a partition wall or doorway and stacked one on top of the other, all the way up to the ceiling.
The slim profile of Kiwi's Climber renders it virtually unnoticeable, until a cat shocks nearby humans with a wild chase to the top.
Sections are engineered to balance stiffness and flexibility, making them sturdy and easy to mount on the wall.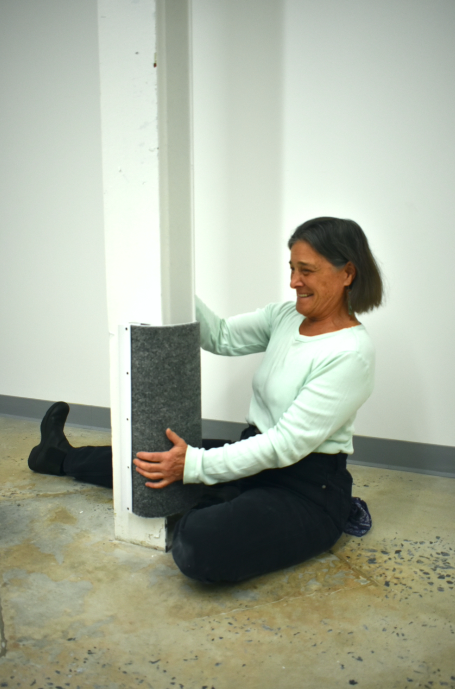 1-2 sections: $59.99 per section
3-4 sections $54.99 per section "3+CLIMBERS" in our discount code box to receive a $5/section discount.
5-6 sections $49.99 per section "5+CLIMBERS" in our discount code box to receive a $10/section discount.
See what people are saying about Kiwi's Climber!
How has your Cat Acclimated to KC?
"Uses it all the time! Scratching our actual carpet less and less. Takes up no room at all in our small space but is very functional for the kitties. Love it."
Does the Climber function properly on your wall?
"It was a long time to wait, but the climbers are very good. The frequent updates were also helpful. If money were no object, I'd order more now to place them on different walls. It's impressive how much they adhere. Ordered 3, but would take 3 more to go from floor to ceiling. Cats have been able to climb and jump without any movement from the climber whatsoever."
How was the installation process?
"I had a wall that was just over the recommended measurement. I was hoping it would fit but it didn't. good thing i had a backup location that i knew would work. very easy once i put it on the wall within the dimensions recommended. Adheres very securely and blends in pretty well with our tan walls and white trim."
Would you consider ordering additional Kiwi's Clibmers?
"Deciding how many more to order. I only ordered two and now we're debating the exact set up we want for them. Will probably order 3-4 more soon! Honestly shocked that I haven't seen this product before last month. It's genius and should be on shark tank. I love it and I hope to see a shelf prototype one day! The other thing I want to see are more fun and unique rug replacements. But overall I love it and am telling all the people I know with cats about it!!"
Would you recommend Kiwi's Climber?
"Our cat, Kenneth, loves Kiwi's Climber! Sometimes he'll use it as a scratching post, modestly using it as he saunters by. Other times, he'll get a running start, leap on, and climb all the way up to the top. He then looks around at us like he's seeking approval for his great feat. Kiwi's Climber does double duty, allowing nice exercise as well as a scratching area for when he's more low key. The design is great and sturdy. It blends nicely with our decor. It's almost undetectable until Kenneth uses it. Highly recommend!"
Manufacturing Information
Environmentally Friendly Factory
It took 47 phone calls to plastic extrusion manufacturers throughout the U.S. to learn that none work with recycled plastic.
The closest manufacturer to our ethos is in Ohio, where scraps or "post production" recycled plastic is used rather than the gobs of "post consumer" recycled plastic that is floating in the oceans and piling up in American recycling facilities.
The plastic core of the Climbers are made in the U.S. from post production recycled plastic.
The carpet coverings are made from recycled soda bottles.
The cardboard shipping boxes and paper packing tape are easily recyclable and biodegradable.
Kiwi's Climbers will be assembled, orders fulfilled, packed, and shipped by formerly incarcerated women participating in a special program to prepare them for long-term employment.
What is the best way to get my cat acclimated to Kiwi's Climber?
After you mount the climber, let your cat sniff and get used to it. This is a case where doing nothing has a benefit. Let her check it out on her own—many cats do best when they think we don't care.
Most cats will sniff and claw it, especially if you spray catnip on it or dangle a string toy near the top of it.
Talk to the cat while mounting the climber so she knows that it might actually involve her.
If they haven't gotten the hang of it after a day or so, feel free to pick them up and put them halfway up the climber and let them hang there with their claws in it. If they see a toy or something interesting above them, they'll probably scurry up to check it out. Once they have the sensation of being able to climb, they'll come back for more.
What if my cat doesn't like or refuses to use Kiwi's Climber?
Sadly, not every cat will use the Climber. Some cats claw the bottom sections but never climb. Some older cats who never had the climbing experience don't want that experience. C'est la vie. If your cat doesn't acclimate to the Climber within 30 days you can return it to us and get your money back.
On what surfaces can Kiwi's Climber be mounted?
Kiwi's Climbers have been tested on wood, plaster, brick, and drywall.
How long do Kiwi's Climber sections usually last?
The plastic core of Kiwi's Climber never wears out. 
What if the carpet wears out?
The carpet on the lower two sections of the Climber, which get the most use, will likely wear out after one-two years. Go to the ordering tab of our website and complete the "Please Replace My Carpet Section" form and we will send your replacement(s).
I ordered two Climber sections but now I would like to order three more sections. How does the pricing work for this?
Customers will receive the $5.00 per section discount on more than three climber sections, whenever they are able to purchase them. We understand that some people will order one or two Climber sections to determine whether or not their cat likes them, and that many folks can't afford to buy all of their sections at one time. If this is the case we encourage you to collect your sections as you are able to, knowing that we will keep track of your orders via email and shipping address. We are happy to reward additional purchases.
When will the ceiling platform be available? How much will it cost?
Our target is 2024, provided we have sufficient revenue to justify the additional investment. Cost will be determined in the weeks before the product is available.
Will you have Climbers that fit into other corners of the walls?
We do have a design for a Kiwi's Corner Climber that fits in an inside corner. The high platform is a higher priority, but we are always open to your suggestions and preferences. Let us know at info@kiwisclimer.org.
The Climber sections are too wide or too narrow to fit on my walls or doorways?
Kiwi's Climber sections have been made to fit standard 4.25" – 7.25" inch end cap walls and door jams. However, we know that every home is not "standard."
Some newer homes have wider end cap and "marriage" walls, while mobile homes and cinder block homes often have narrower inside walls.
Please get in touch with us for suggestions for supplementing the width of the narrower walls.
Homes with wider walls will benefit from Kiwi's Corner Climber when that is completed.
You can return your Kiwi's Climber sections for a full refund if your walls and our Climbers don't fit.